We have to be one of the first independent bookstores in the country working to achieve LEED certification. We know that we are the first green commercial building project in Sewickley. The first green materials for the Penguin arrived this Monday from Charlottesville, VA.
Since the truck was too large to enter Sewickley village, we created a staging area nearby and offloaded the roof trusses and floor joists onto smaller trucks.

LEED certification is achieved by meeting LEED requirements for a minimum of 26 points. We obtain one point for our project under the Materials and Resources category by purchasing at least 50% of the wood used in the building that is FSC certified.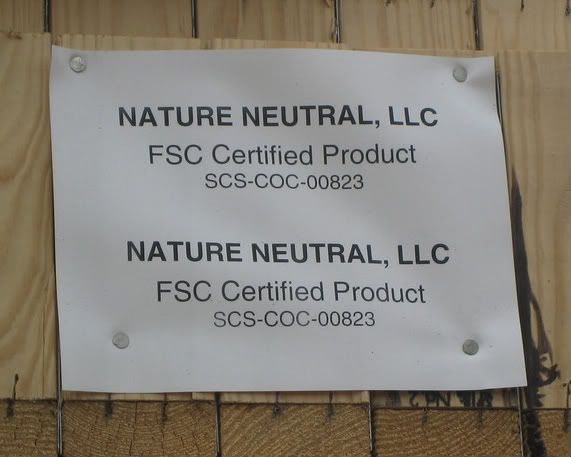 FSC is the Forest Stewardship Council that sets standards for wood materials. The wood must follow a specific chain of custody and be harvested from "certified, well-managed forests" (for more information on this international organization, visit www.fscus.org and www.fsc.org ). Later this week, we will be getting another shipment of FSC certified decking and sheathing which will bring our percentage to well over the 50% required. Since all of these materials were also manufactured within 500 miles (Charlottesville is just over 350 miles from Sewickley), they help us to qualify for another LEED point. This Local/Regional Materials point is obtained by utilizing 20% of the cost of building materials and products from within the 500 mile radius of the site.
We are certainly developing an appreciation for the goals of LEED certification and their positive impact on the community. We are also amazed at the level of commitment required, on our part, to source materials and qualified labor and to continue to meet the minimum standards in all areas. This has been an incredible learning process…