The back sign was placed last week! If you haven't seen it in person, we highly recommend that you walk or drive by. We are very excited that the building officially has its name back and is one step closer to opening in a few months (a few months?!). The front sign will be very similar in font and stone to the back sign but it will span the entire front of the building. You can see a rendering of the front of the building with the sign in place if you look to the right in the purple section of this blog.
Also, as you can see from the rendering to the right, the front of the new store will be filled with windows. The picture below shows what the store looks like now. You can see that they are getting ready for the windows and the center door. They have also removed the front step so that the building will be accessible for strollers and wheel chairs.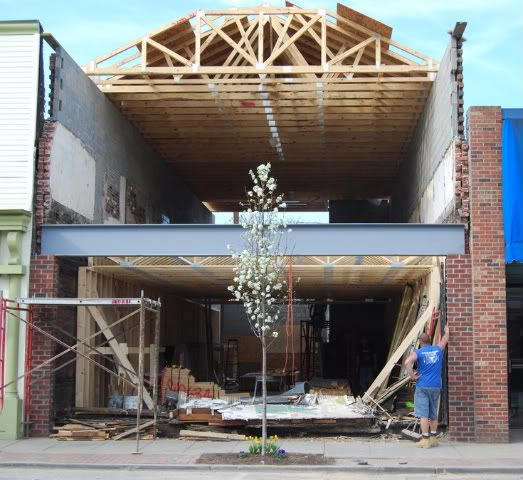 In anticipation of our opening, we would like to know your top 5 books that everyone should read. Please either send an email to booklovers@penguinbookshop.com or leave a comment below.
Thanks! and as usual, we will keep you posted as work marches on!