Leah and Maryanne spent four jam packed days at the Books Expo America (BEA) in Los Angeles at workshops, meetings with vendors, book signings (wait until you see what we have to give away during our grand opening, hint, hint), events with the American Booksellers Association and checking out acres and acres of vendors and publishers strutting their stuff in the LA convention center. It was, to say the least, overwhelming and exciting at the same time. If you would like to see a little of what Leah and Maryanne saw, look here. This article barely scratches the surface, but you can get a small taste.
Have you been checking the blog for new construction pictures? We have been busy behind the plywood constructions walls, but it is progress that is difficult to capture in photos. All of our time lately has been spent making decisions that will determine the look and feel of the store and the ultimate inventory. We cannot wait for the windows and doors to go in next week and hope that you will be happy with our "curb appeal".
In the meantime, this is a picture of the fireplace on the first floor.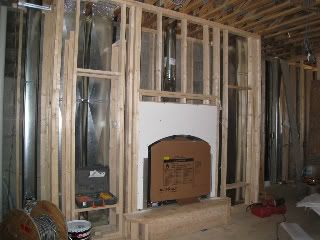 If you are standing at the front door on Beaver Street, the fireplace is on your left a little over half-way back. Just beyond the fireplace is the coffee area. Imagine enjoying a cup of coffee with a new book in front of a warm fire…OK maybe that is not the best image for this time of year. Imagine sitting out on the sunroom porch on the second floor with a new book. Anyway, we think you get the idea.
For those of you who will be away most of the summer, this will be the best place to keep up with our progress. The new Penguin Bookshop should be open for business by the time you return. For those of you who are here during the summer, you should see dramatic progress over the next couple of weeks. Since there will be paper over the windows, our blog is the only place you will be able to see pictures of the inside during construction, so check back. Better yet, subscribe to an RSS feed so that you will see our updates as soon as we post them.
Happy summer! Check back next week for the new pictures of the exterior. We have a lot to do between now and August and cannot wait to begin conversations about books with you in the new Penguin!