Things are booking at the Penguin! We now feel like we are making progress every day. The windows are in and we are thrilled with the overall look.
We have a beautiful new staircase that was installed last week and the elevator is nearing completion. The second floor children's area, which we are calling the Munchkin's Loft, is painted with low VOC (volatile organic compounds) paint and carpeted with "green" carpet.
Maryanne's bookshelves from her prior store arrived on Monday and are already being installed. They look great in their new home as you can see from this picture with Maryanne standing by the new shelves.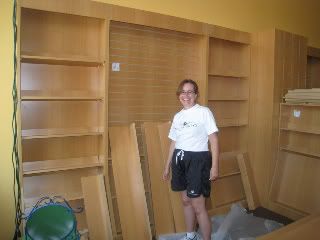 We cannot give you a full picture of this area yet because it is still stuffed with bookshelves. We will try to post updates a little more often over the next couple of weeks, but please bear with us as we continue to work on everything that has to happen between now and our grand opening. It is so gratifying to see all of the pieces coming together to get the Penguin back up on its feet after this transition. We are looking forward to opening our doors to you!